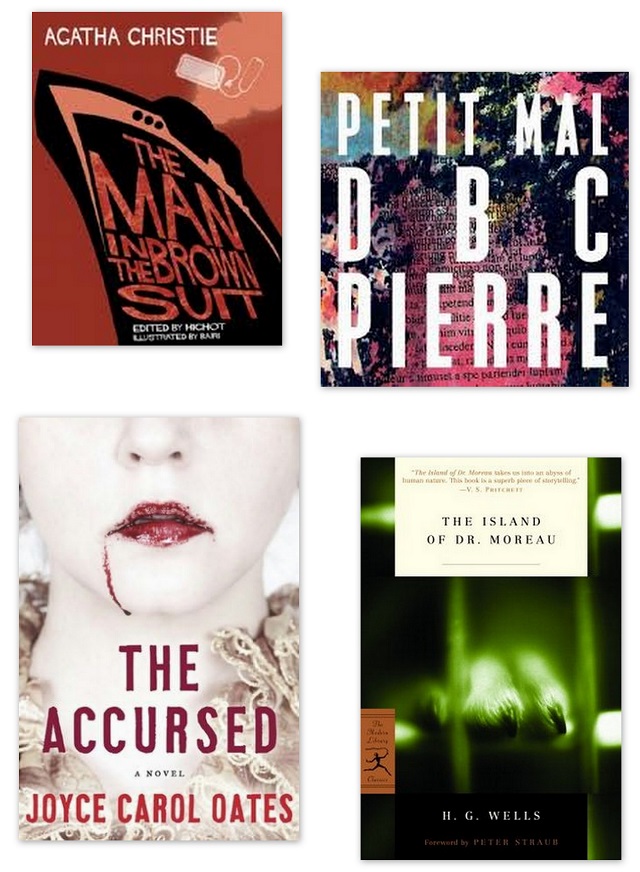 To be brutally honest, this month sees a collection of various disappointments. Not too disappointing, I hasten to add, for I've actually finished three out of the four (currently reading the last) and I have a policy not to finish a book if I'm not enjoying it or think it's bad (or both).
First up is The Man in the Brown Suit. While this version – obviously – isn't the 'novel' it sits far apart from the other Agatha Christie's I've read in the past. So much so I might have doubted she was the original author if I didn't already know. I don't read a lot of comics, and I should read more. The artwork alone demands a respect I'm more than happy to provide. But in this case, the story didn't really capture me.
I chose The Island of Dr. Moreau for a couple of reasons. It was slim and counterbalanced the anvil-sized The Accursed, plus it is on my 1001 Books Challenge list. It's hard for me to write what I think about it because I'm still not sure. The plot moves along speedily, and I liked the building of mystery in the opening chapters, but once the 'experiments' were shown I felt it showed its age and I lost interest. Then I felt silly because I know I'm reading it from a technologically advanced and educated position 100 years after its publication, and that wasn't being fair. So instead I appreciate it for Well's pioneering and brave investigation into what radical science says about our humanity.
Petit Mal is DBC Pierre's latest book and is a collection of gathered prose he's previously published, illustrations and photographs. It has attracted some criticism for any lack of unifying themes or purpose; 'random' has been one description. I enjoyed this randomness, actually, up to a point because I was enjoying each 'sample' (most are hardly more than that) for its own merits. Which is fine, until even some of them weren't great. Here's what the Guardian had to say: "In offering this for sale his publishers put two fingers up to his public and, I think, two fingers up to poor old Pierre's reputation, too."
Ouch.
Okay, confession: I've never finished a Joyce Carol Oates novel (see above policy)(I've read her short stories, though). Hopefully I can get through The Accursed, although it's an intimidating 667 pages. I've just passed the 100 page mark – so far, so good!
What are you reading at the moment?